Pure Zone UVC Disinfection Charging Carts
Our Pure Zone UVC Disinfection Charging Carts provide medical-grade, UVC sanitization for electronic devices, such as Chromebooks, iPads, and cell phones, while charging them in a secure space. They're an ideal solution for places with a high volume of devices—like schools, colleges, universities, and hospitals—where keeping everyone safe and connected is a priority.
Keeping Staff, Students and Essential Workers Safe
We are all facing new challenges in safety protocols while navigating through the era of COVID-19. Technology is a part of our daily lives—we educate our children with laptops and iPads and medical staff use tablets to provide patients with the critical care they need. Everyone is trying their best to reopen and operate in the safest environment possible, but one of the major challenges we face is how to go about sanitizing our electronic mobile devices.
Did You Know the Coronavirus Can Live on Laptops for up to 72 Hours?
Laptops, tablets, and mobile devices are difficult to clean, and chemical cleaners can easily damage devices. In schools and hospitals, where you have students and workers relying on their devices, it's now more important than ever to keep them clean. Since Coronavirus can live on laptops for up to 3 days, using a trusted disinfection solution is key—that's where UVC technology comes in.
How Does UVC Disinfection Work?
UVC light technology has been effectively used for decades in hospitals and labs to eradicate viruses and bacteria by 99.9999%.
Our UVC Disinfection Charging Carts use the same technology, emitting 254nm UV light, to disinfect devices in just 5 minutes and kill any bacteria and viruses—like COVID-19—by destroying the molecular bonds that hold together their DNA.
Unlike chemical disinfectants, UVC leaves no residues on the devices and requires no maintenance—it's clean, easy-to-use, and cost effective. By making sure our devices are effectively sanitized, we can help stop the spread of COVID-19 and limit the risk of future waves of infection.
Power Up UVC Disinfection Solutions
Power Up offers Pure Zone UVC Disinfection Charging Carts to accommodate 10 – 65 electronic devices. The best part is that while the devices are being sanitized, they're also being charged! Our carts can accommodate laptops, tablets, keyboards, smartphones, radios, scanners and other small mobile equipment and charge them by means of either AC or USB. In addition, our carts have removable dividers that can accommodate larger Items. They can be used in a myriad of applications, from school systems and hospitals, to government agencies and warehouses.
Our carts are available for either purchase or long-term rental depending upon your needs and we provide delivery and service to your desired location. With ever-increasing concerns around keeping students and essential workers safe, this item is in high-demand. Let us help you help stop the spread of COVID-19 and contact us today!
Use Case: UVC Disinfection in Education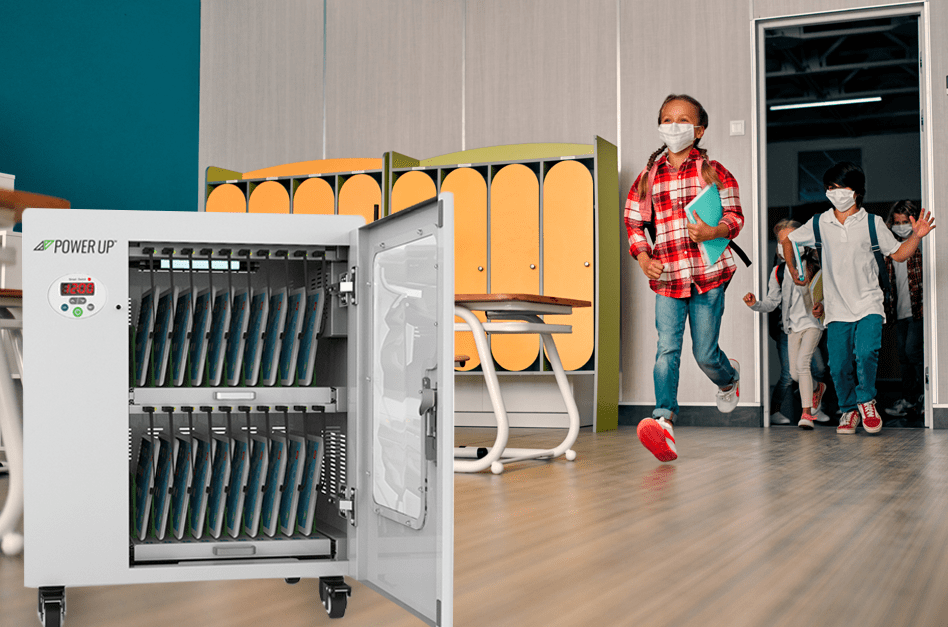 In schools, colleges, and university settings, protecting students and staff during this pandemic is crucial. Aside from wearing masks, following social distancing protocols, and frequent hand washing, disinfecting frequently touched devices is of the utmost importance.
Laptops and tablets are often provided for students to use, but are notoriously difficult to clean. This concern becomes heightened when devices are shared between different students in different classes. Since Coronavirus can live on a laptop for up to 72 hours, it's imperative that every inch of the device be sanitized.
Using a disinfecting wipe may kill some of the germs, but if students are responsible for cleaning the devices after use, it's easy to miss spots—especially in the crevices of the keyboard.
Additionally, the total cost for a school to provide wipes to each classroom adds up over time. And then, what if the wipes run out? Disinfecting wipes and their canisters create more trash that goes into landfills and aren't a viable, long-term cost-effective solution.
By using UVC disinfection technology, schools can be assured that they are following best practices with enhanced safety protocols. Staff and students can feel safe that their devices are being properly cleaned, helping to mitigate the spread of COVID-19 and other viruses. The charging functionality is an added benefit that ensures no student will go without a powered, clean device.
Ultraviolet C lights inside the cart disinfect the device cases while the devices are being charged. They emit 254nm UV light that kills any kind of bacteria and virus, like COVID-19, by destroying the molecular bonds that hold their DNA together. Unlike chemical disinfectants, UVC leaves no residues on the objects, needs no maintenance. It is clean and cost effective.

The cabinet is made of cold-rolled stainless steel with special coating for protection against various environmental conditions. All parts, joints, welds, and hinges are carefully placed and done with particular attention to details to achieve maximum strength and visual aesthetics.

Advanced design allows the device to charge the devices without their adapters. Power cables, connected to converted power outputs provide the power to the devices. Charging is controlled by a Smart system that disconnects the power to any of the devices after it is fully charged. Models with option to use device's own adapter are available.

The cabinet is secured with a convenient, sturdy Push-to-Close lock on the front door and triangular lock on the side or back door, both with keys. The whole system is completely enclosed in a steel shell, with no openings except the locked doors.

The main power input is protected by a multi-layer system ensuring regulated power reaches the converters. The cabinet is equipped with a Smart Fan that turns on and off automatically to keep the temperature of the cabinet within safety range.